keyboard_backspace all articles
Downloading household information
Article under construction: The article you are viewing is still being written. As a result, there may be incomplete information or missing steps. If you require immediate assistance, please submit a help ticket.
Before you can download information from the Community Connector, you will need to either create a project or open an existing project. Please read the following help articles to find detailed information for both creating and opening a project:
---
Downloading a file
When you have the project open that contains the region and layers you would like to download, click the 'download' icon in the 'Projects' section of the control panel.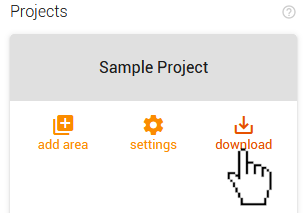 Clicking the 'download' icon will expand that section of the control panel and reveal the different documents you can download. Each report includes different sets of information about the houses included in the current project.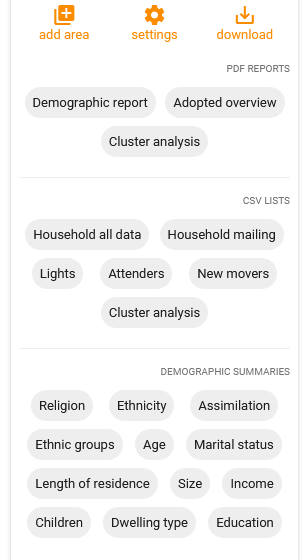 ---
Below, you will find a guide of the contents for each of the document types. The documents will include information for the households in the current project regions that meet the project's filters (if any).
.PDF downloads
Overview: Overview is a 36-page demographic report that provides maps, graphs, and charts based on the region contained in the project.
Adopted: Adopted is a brief report that details the percentage of homes in the project area that have been adopted by Lights.
---
.CSV downloads
Households - This document includes the columns listed below. Information included in parentheses is for clarity:

Primary given name (first name of primary adult)
Primary middle initial
Surname (last name)
Secondary given name (first name of secondary adult)
Street address
City
Post office
State
County
Zipcode (5-digit)
Telephone (when available)
Language
Ethnicity
Ethnic Group
Assimilation
Marital status
Length of residence (range)
Age (range)
Dwelling (type)
Income (range)
Home owner (owner or renter)
Household size
Religion
Hispanic country of origin (when applicable)
Kids 0-2
Kids 3-5
Kids 6-10
Kids 11-15
Kids 16-17
Adopted (adopted by Lights in Blesseveryhome.com)
Neighborhood (Census Block Group ID)

Lights:
Attenders -This document includes your organization's attenders that have been uploaded to your account that are within the project's regions. If the uploaded attenders match a household in our database, information on that household will be included. The document will include the columns listed below. Information included in parentheses is for clarity:

Attenders ID
Status
First Name
Middle Name
Surname
Family ID
Family Position
External Source
External Source ID
Street Address
City
Post Office
State
County
Zip Code
Telephone
Language
Ethnicity
Ethnic group
Assimilation (when applicable)
Marital Status
Length of Residence
Age (range)
Dwelling (type)
Income (range)
Home owner (owner or renter)
Religion
Hispanic country of origin (when applicable)
Kids 0-2
Kids 3-5
Kids 6-10
Kids 11-15
Kids 16-17
Utility Field 1
Utility Field 2
Utility Field 3
Utility Field 4
Utility Field 5

Assimilation:
Ethnicity:
Ethic Groups:
Age:
Marital Status:
Household Size:
Length of Residence:
Religion:
Dwelling Type:
Education:
Income:
Children:
New Movers:
---
launch open page in new tab