keyboard_backspace all articles
Viewing and downloading your weekly New Movers
Article under construction: The article you are viewing is still being written. As a result, there may be incomplete information or missing steps. If you require immediate assistance, please submit a help ticket.
The New Movers subscription gives your organization a weekly list of up to 25 people who recently moved into your community. The list is manually generated and processed on Tuesday each week. Once the list has been processed, a notification email is sent to the administrators of your organization letting you know that your New Movers have been posted.
---
Viewing and downloading from the map
To begin viewing your New Movers, click the 'New Movers' heading under the 'Layers' section of the control panel.
info Note: If your organization has a New Movers subcription and does not have a Community Connector subscription, your New Movers will be turned on by default when loading the 'MAP' page. If the 'New Movers' layer is green in the control panel, that layer is active.

You will see sub-categories titled 'Fresh' and 'Archived'. Click 'Fresh' to expand that section to see recent New Movers.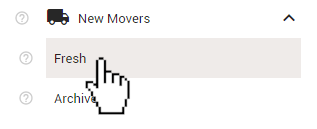 Expanding the 'Fresh' section will cause the last 6 weeks worth of New Movers to appear on your map. Use the toggles to select only the New Movers you would like to view or download.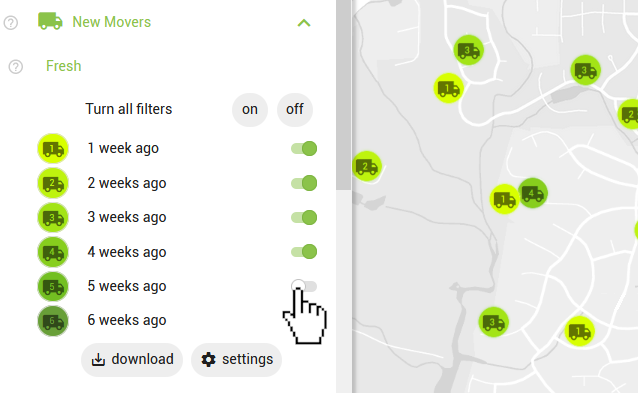 Click any of icons that represent your New Movers on the map to open an info-box that features the name, address, and distance of move of that New Mover, as well as approximately how long ago that record was added to your account.
To download a list of the New Movers that are currently visible on the map, click the 'download' button at the bottom of the 'Fresh' section.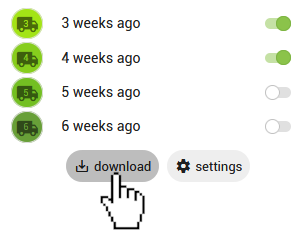 ---
Downloading from the tools page
warning
Warning: The following instructions will cause you to leave the 'MAP' page. If you are viewing this article in the side panel of the map, this will also close this help article. To open this article in a new browser tab so you can continue to follow the instructions after leaving the 'MAP' page, CLICK HERE.
To download a list of your organization's New Movers from the 'TOOLS' page, click the 'TOOLS' icon on the navigational ribbon at the top of the control panel.

Underneath the name of your organization at the top of the page, you will see a row of icons. Click the orange 'NEW MOVERS' icon.
Click the 'DOWNLOAD' button on the right side of the page to download a .CSV file of the last 6 weeks of New Movers uploaded to your organization's account.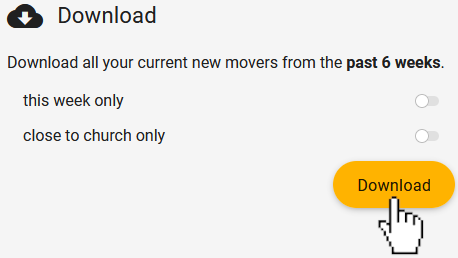 info Note: Depending on your device's screen width, the 'DOWNLOAD' button may appear at the bottom of the page instead of the right side.
---
launch open page in new tab