keyboard_backspace all articles
Viewing your association's affiliated organizations
Article under construction: The article you are viewing is still being written. As a result, there may be incomplete information or missing steps. If you require immediate assistance, please submit a help ticket.
info
Note: This article only applies to associations. While churches can view affiliated Lights, associations can view affiliated Lights as well as affiliated churches and associations.
As a Bless Partner Association, you can view all of your affiliated churches and associations on the map. For a church or association to appear on your map, an administrator of that organization must first check the box next to your organization's name in the 'Movements and Associations' section of their organization's 'TOOLS' page. Doing so will connect them with your organization which allows you to see their progress and will cause them to appear on your map.
To view the affiliated churches and other associations, click the 'My association' label in the 'Layers' section of the control panel and then click 'Organizations'.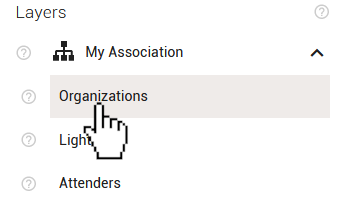 Use the filters to only display affiliated associations or churches.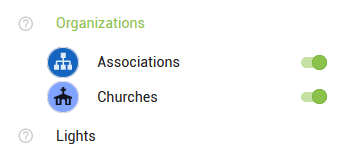 Click any of the church or association icons on the map to view the name and address for that organization.
---
launch open page in new tab