keyboard_backspace all articles
Language
The Language layer shows the probable primary language that is spoken in the home. While the people in the households may speak other languages, the language indicated on the map is most likely spoken as their first language.
There are over 75 languages found in our system. When you activate the 'Language' layer, you will find 3 languages revealed and color-coded:
97% of the households in our system are labeled as speaking one of these 3 languages which is why they are represented with colored icons on the map. All other languages are represented by grey household icons.
---
Discovering and filtering less common languages
Click a grey household icon on the map to see the information for that household.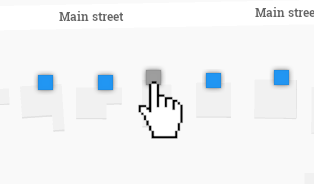 The info-box for that household will display the language that is most likely spoken by the primary adult(s) in that household.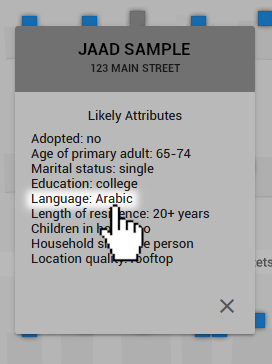 If you would like to filter a specific language that is not English, Spanish, or Chinese, click the 'more...' label found underneath the English, Spanish, and Chinese labels on the control panel.
Use the toggles to the right of each language label to filter out the homes that speak those languages. Alternatively, you can quickly turn all of the languages off by clicking the 'off' button next to the 'Turn all filters' label.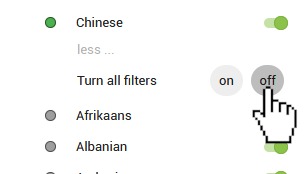 You can then add just the languages back that you would like to see by turning the corresponding toggles on. In the following image, 'Arabic' is turned back on. In this example, only likely Arabic-speaking homes will appear on the map.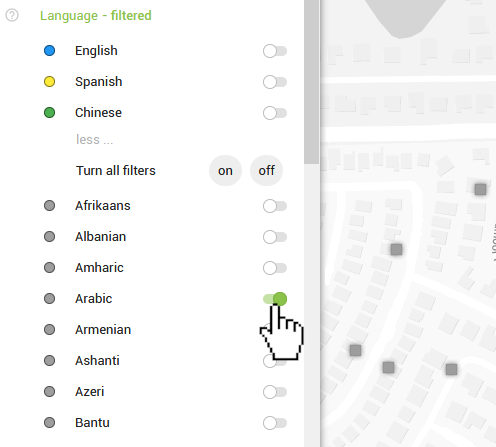 If you would like to hide all of the other languages on the control panel, click the 'less...' label.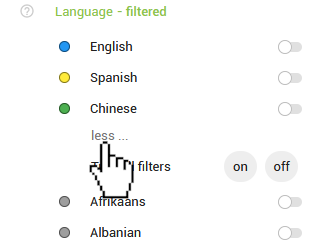 ---
Filters
The available filters for the language layer are as follows:
more...
Afrikaans
Albanian
Amharic
Arabic
Armenian
Ashanti
Azeri
Bantu
Basque
Bengali
Bulgarian
Burmese
Czech
Danish
Dutch
Dzongkha
Estonian
Farsi
Finnish
French
Georgian
German
Ga
Greek
Hebrew
Hindi
Hungarian
Icelandic
Indonesian
Italian
Japanese
Kazakh
Khmer
Kirghiz
Korean
Laotian
Latvian
Lithuanian
Macedonian
Malagasy
Malay
Moldavian
Mongolian
Nepali
Norwegian
Oromo
Pashto
Polish
Portuguese
Romanian
Russian
Samoan
Serbo-Croatian
Sinhalese
Slovakian
Slovenian
Somali
Sotho
Swahili
Swazi
Swedish
Tagalog
Tajik
Thai
Tibetan
Tongan
Turkish
Turkmen
Tswana
Urdu
Uzbek
Vietnamese
Xhosa
Zulu
---
launch open page in new tab
arrow_upward jump to top of page