keyboard_backspace all articles
Ethnicity
There are over 150 unique filters for Ethnicity. These refer to the probable ethnicity of the primary adults that live in the home.
Since there are so many filters to display on the map, it is obvious that it would be difficult to decipher the difference between over 150 unique colors. Instead, we color-coded and grouped the ethnicities by approximate region. Click the down arrow to the left of the region to expand it and the up arrow to collapse it.
If you are looking for a specific ethnicity you can first turn off all of the ethnicities by clicking the 'off' button next to 'Turn all filters' which can be found at the top of the list of groups of ethnicity.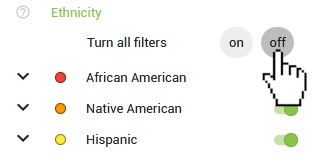 Once you have turned off all of the ethnicities, click the arrow next to the group you would like to view to expand it and see the sub-categories. Simply use the toggle next to the ethnicity or ethnicities you would like to view. Any toggles that are green will appear on the map.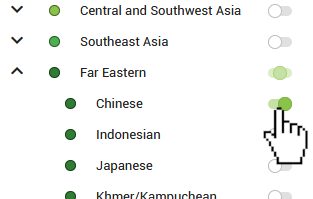 Any expandable group that contains a mix of ethnicities that have been turned off and on will change the toggle next to the group to be a lighter color green. See the image below for an example of this icon
Clicking this partially filtered toggle will turn all of the toggles in that group back on. Clicking again will turn off all of the filters in the group.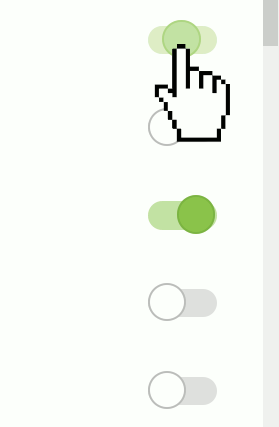 ---
Categories
Below are all of the categories and sub-categories that are available in the Ethnicity layer. Use the following links to quickly jump to the corresponding section
African American - Native American - Hispanic - Jewish - Polynesian - Central and Southwest Asia - Southeast Asia - Far Eastern - Middle Eastern - Mediterranean - Western Europe - Eastern Europe - Scandinavian - Other groups
African American

African American
Angolan
Ashanti
Beninese
Botswana
Burkina Faso
Burundian
Cameroonian
Caribbean American
Central African Republic
Chadian
Comoros
Congolese
Djiboutian
Equatorial Guinea
Ethiopian
Gabonese
Gambian
Ghanaian
Guinea-Bissau
Guinean
Ivorian
Kenyan
Lesotho
Liberian
Madagascan
Malawian
Malian
Mauritanian
Misc. South African
Mozambican
Namibian
Nigerian
Ruandan
Senegalese
Seychelles
Sierra Leone
Somalian
Sudanese
Swaziland
Tanzanian
Togolese
Ugandan
Xhosa
Zairean
Zambian
Zimbabwean
Zulu

---

Native American

---

Hispanic

Basque
Hispanic
Portuguese

---

Jewish

---

Polynesian

Hawaiian
Nauruan
Papua New Guinean
Philippine
Tonga
Vanuatuan
Western Samoa

---

Central and Southwest Asia

Armenian
Azerbajani
Chechnyan
Georgian
Kazakhstani
Kirghiz
Tajik
Turkmenistani
Uzbekistani

---

Southeast Asia

Afghani
Bengali
Bhutanese
Indian
Nepalese
Other Asian
Pakistani
Sri Lankan
Telugan

---

Far Eastern

Chinese
Indonesian
Japanese
Khmer/Kampuchean
Korean
Laotian
Malaysian
Mongolian
Myanmar
Thai
Tibetan
Vietnamese

---

Middle Eastern

Algerian
Arabian
Egyptian
Iraqi
Kurdish
Kuwaiti
Lybian
Moroccan
Persian
Qatari
Saudi Arabian
Syrian
Tunisian
Turkish
Yemeni

---

Mediterranean

---

Western Europe

Austrian
Belgian
Dutch
English
French
German
Irish
Luxembourgian
Manx
Scotch
Swiss
Welsh

---

Eastern Europe

Albanian
Belarusian
Bosnian Muslim
Bulgarian
Croatian
Czech
Estonian
Hungarian
Latvian
Lithuanian
Macedonian
Moldovan
Polish
Romanian
Russian
Serbian
Slovakian
Slovenian
Ukrainian

---

Scandinavian

Danish
Finnish
Icelandic
Norwegian
Swedish

---

Other groups

Australian
Guyanese
Maldivian
New Zelander
Surinamese

---

Unknown
---
launch open page in new tab
arrow_upward jump to top of page